5G Antennas deployed on every building, stadium, mall, park, public building, school, street light, rooftop, tower, power pole and traffic signal everywhere after what happened today. 5G utilizes millimeter wave technology and millimeter wave emissions wreak havoc on your skin, absolutely destroying its ability to produce vitamin D.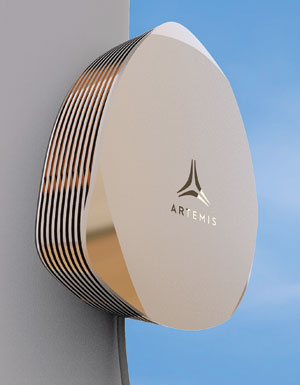 Artemis is known as the goddess of Fertility. This is nothing more than a mass sterilization,depopulation project. Follow this article to the end and you will agree. These things are fanless and have heat sinks that look like they can dissipate heat from a thousand watts of power. The question is what are they going to do with a thousand watts of power. Here is the law where these things are going to go in everywhere and you better wake the hell up- AB 2788 allows for placement of small cells in all public right of ways with no more local control. Here they are folks.
ARTEMIS TECHNOLOGY.
pCell technology
ARTEMIS is the Greek goddess of FERTILITY AND CHILDBIRTH.
NOTICE THE SIMILARITIES AS REPRODUCTIVE FUNCTION APPEARS TO BE LITERALLY TURNED UPSIDE DOWN BY WIRELESS.
pCell technology is all about harnessing and combining radio signals, even interference to create extra wireless energy around each individual mobile device that follows the device wherever it goes, specifically into the laps of you and your children.
ARTEMIS WAS ALSO A GOD OF THE HUNT and Childbirth-how ironic as each wireless device is targeted for a directed energy beam.
Artemis systems create individual pCell bubbles of microwave energy 40X more intense than 4G around every wireless device all the time, which actually follow the device wherever it goes, with no escape, ensuring that the connection is never broken and the irradiation of the user is constant.
IS THIS THE FUTURE WITH P CELLS EVERYWHERE?
You bet it is with pCells' wireless energy around each mobile device WITH 20 TIMES THE POWER THAT IS CURRENTLY BEING USED hunting everyone down while the energy is directed to each antenna in the laps, pockets or breasts. It is a brilliant invention but could it be being used for nefarious purposes?
"In a year, we will displace the need for cable and DSL.." -forced wireless-
"pCell technologies uses are NOT limited to communications.. communications are a very good application of this technology but IT IS NOT ACTUALLY THE BIGGEST ONE.."
PCELLS SYNTHESIZE A TINY RADIO WAVE BUBBLE AROUND EVERY ANTENNA- For now, lets forget the two way surveillance capabilities that this will have on EVERY WIRELESS DEVICE IN EXISTENCE and look at the microwave exposures TO THE DEVICE HOLDER.